---
MSP Museum series presents Greetings!
Get your tickets now, they're only $10 each!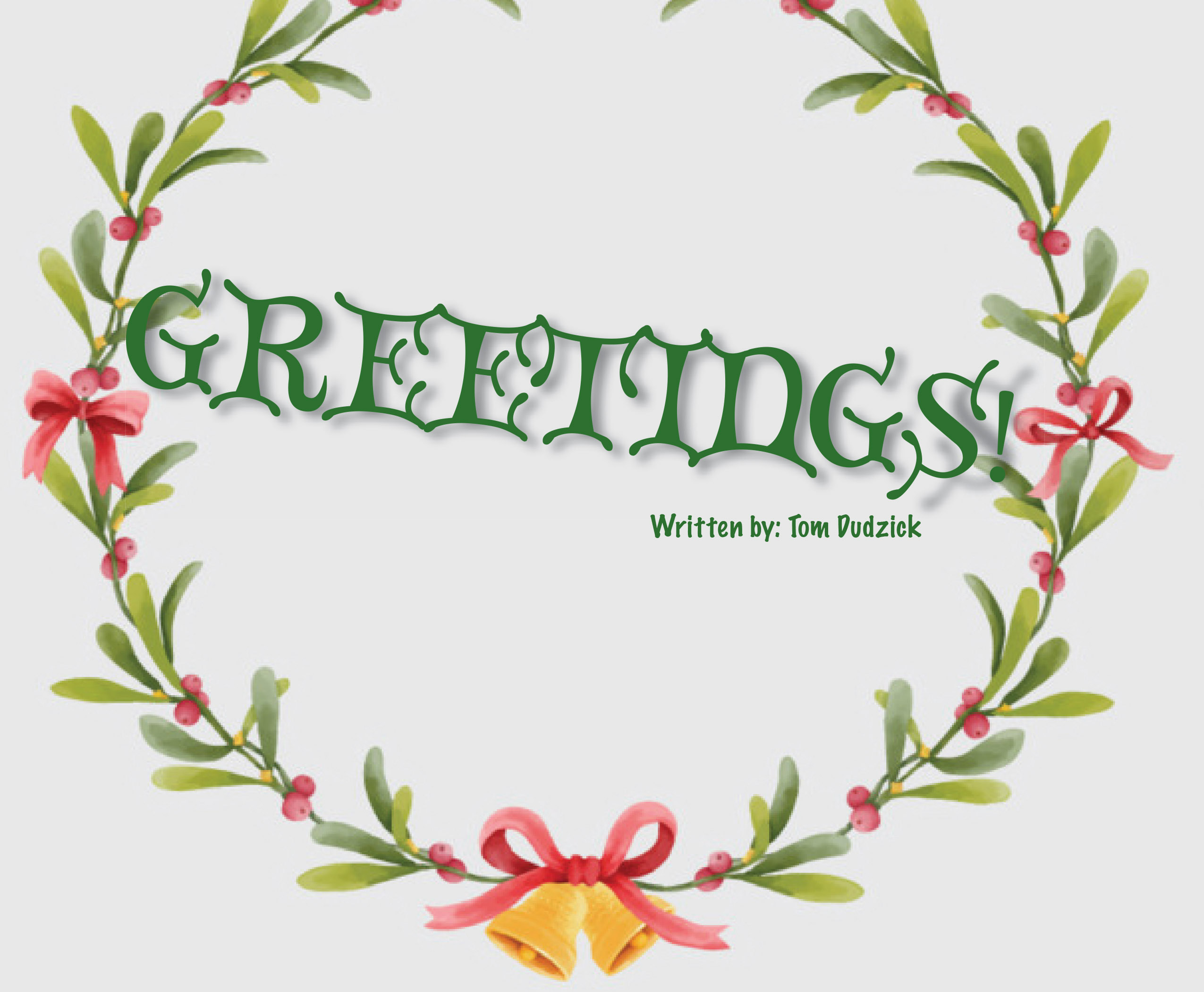 Synopsis:
Andy has a sweet Catholic mother, a sour Catholic father and an intellectually disabled younger brother named Mickey. When he brings his Jewish atheist fiance to meet the folks on Christmas Eve, his worst fears about family blow-ups are realized. But when Mickey, whose entire vocabulary has been limited to "oh boy" and "wow," suddenly spouts the word "Greetings!" the entire family's belief system is turned upside down. For it seems an ancient, wise and witty spirit who is set upon healing the family's wounds has borrowed Mickey's body!
Performance dates:
December 10-11 & 17-18, 2022. Saturday performances at 7:00pm. Sundays performances at 2:00pm.
Boone County Museum of History
314 S. State St.
Belvidere, IL. 61008
For ticket information click below on the Square marketplace button

or call 800-741-2963
We look forward to seeing you!

"Come and Play with Us!"
---
MSP 2022-2023 Season!
---


Written by Julian Wiles

Presented through special arrangement with
Dramatic Publishing






Mix together a batch of fruitcakes, three dozen Christmas trees, 10,000 outdoor Christmas lights, a chicken pox epidemic, two southern spinsters, an estranged old man, a lost cat named Tutti Frutti and a Christmas hog named Buster and you've got the recipe for a fun-filled and touching evening of holiday cheer. Into this world comes Jamie, a kid who has run away from home and come as far as his money will take him. At first, he thinks this town's inhabitants are "nuttier than fruitcakes," but soon he comes to admire, appreciate and adore this nutty little town. A moving story of alienation, understanding and reconciliation, FrUiTCaKeS provides audiences with a heaping helping of holiday warmth and Christmas cheer.

November 11-13 & 18-20, 2022

<!a href="https://squareup.com/market/main-street-players-of-boone-county" target="_blank"><!img src="tickets.png"><!/a>

<!a href="audition.htm" target="_self"><!img src="auditions.png"><!/a>







---



Written by Neil Simon

Presented through special arrangement with
Concord Theatricals






At a large, tastefully-appointed Sneden's Landing townhouse, the Deputy Mayor of New York has just shot himself. Though only a flesh wound, four couples are about to experience a severe attack of Farce. Gathering for their tenth wedding anniversary, the host lies bleeding in the other room, and his wife is nowhere in sight. His lawyer, Ken, and wife, Chris, must get "the story" straight before the other guests arrive. As the confusions and mis-communications mount, the evening spins off into classic farcical hilarity.

February 10-12 & 17-19, 2023

<!a href="https://squareup.com/market/main-street-players-of-boone-county" target="_blank"><!img src="tickets.png"><!/a>









---



Written by Tennessee Williams

Presented through special arrangement with
Dramatists Play Service Inc.




The story of a Southern family in crisis, especially husband Brick and wife Maggie, as they interact with Brick's family over the course of one evening gathered together at the family's Mississippi estate.

May 12-14 & 19-21, 2023









---

---

Show your support for community theater...
Become a member of Main Street Players of Boone County!

We offer these very affordable memberships levels: Student $5 | Adult $10 | Family $25 | Thespian $50 | Star $100 | Spotlight $200

You may also choose to make a donation in another amount.

Have you donated at least four hours of your time from 2020 thru 2022? Then you are eligible for an in-kind membership to Main Street Players for the 2022-2023 season!

Membership includes recognition in our programs, assures you will be updated on all auditions, performances, appearances, fundraisers, and social functions, and helps MSP continue to provide quality entertainment to our area.

Become a member today by clicking our "Membership" link and completing the membership form - then plan to attend our Annual Meeting in August to meet other members and hear about our exciting projects.

Celebrating our 27th season ... Come "play" with us!

---

OUR CURRENT ADVERTISERS

A Better Choice Counseling